I'm generally not a huge fan of Black and White Decor, but the balance on this set has me giddy. The brown top and distressed white mutes the contrast, which is what I love about it. It really reminds me of a cute country home.
When we picked this set up, it was a little beat up. Someone, somehow had broken the figure 8 on the inside of one of the chairs and did an interesting job of repairing it. They might have gone a little bit over board on the glue. I actually ended up re-breaking the chair, removing all the glue and re-gluing it the correct way. Now you can't even tell which chair was broken.
I used a new technique to me called toning on the top of this set to get a really consistent, even color and I love the way it turned out. I honestly will never stain the same way again. This was much easier and looks much better.
I did use Fiddes Wax on the entire set except for the top. The top is sealed with lacquer for extra durability and shine. I used the technique I teach in this tutorial to get an even sheen with the wax on the chairs. Then I recovered the chair seats with linen upholstery (the love of my furniture and decorating life).
Materials Used:
Behr Ultra Premium Latex Paint mixed with Blue Minerals Chalk Paint Powder (Black and Linen White)

Fiddes Supreme Wax in "light" and "jacobean"
Transtint wood dye in Red Mahogany
Watco Lacquer in Gloss
Lacquer Thinner
Furniture Stripper
150, 220, 400, & 600 grit sandpaper
#0000 Steel Wool
Synthetic Wool Buffing Pad
Wax Applicator Brush
Featured: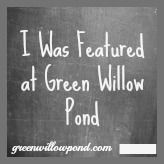 Linking To:
Monday:
Tuesday:
Wednesday:
Friday:
5s 8 5 8 4 5s 4 12 13 error 13 4 13s 6 13 13s 8 xi 6 5 12 13s 5s 6 6 8 13 13 >> s 5 louis vuitton outlet 5s louis vuitton outlet 5 13 7