I hope you all had a wonderful New Years! I'm so excited for 2014, it's going to be a great year! And to start the year off right, I've got a little treat for you all! Let me introduce you to Bernadette.
I'm not going to lie to you, naming furniture is extremely fun. The entire time that I am working on a piece, I sit and try to come up with a name that incorporates everything that I want the piece to portray.
I think she's a real show stopper… but I only have photos of the bottom for now :(. I lost the light today, but I will have updated photos first thing tomorrow with the top as well. For now, here's a little more eye candy!
On the insides of the cabinets, we replaced the back with bead-board to give it a little more pop. Originally they were mirrors. I have before pictures somewhere, but in the process of Christmas and New Years, I lost my memory card. Hopefully, I will be able to get those up on here tomorrow as well!
Bernadette was painted in Benin Moore's "Old Navy", which is one of my favorite colors. The insides were painted with Benin Moore's "Revere Pewter", also one of my favorites! I used Blue Minerals Chalk & Mineral Paint Powder to make the whole job easier, and I waxed the entire thing with Fiddes Supreme Wax. Oh!, and I actually used the original hardware on this one, which is rare for me.
Painting just the insides of a cabinet like this was a huge pain, but now that she's all done, I'm so happy I went through the extra work. The lighter insides make them pop against the dark blue…
I'm looking forward to sharing more photos with you tomorrow!
[border ]
POST UPDATE
Hello again, I'm back as promised with more photos of Bernadette! I just can't get over how much I love this Navy Blue Color!
It's hard to see in the photos but the insides of the top and bottom have a bead board backing. The sides were originally mirrors, but one had been shattered at some point. So instead of replacing the shattered mirror, I decided to replace it with the bead board. With the lighter insides, it really makes the piece stand out!
There are also lights everywhere inside Bernadette. There are 3 lights up top (1 for each section) and 2 lights in the bottom. (I have a thing for lighted furniture, I think it creates such amazing mood lighting.
Also, you can't see this very well, but there is a pretty granite slab in the middle of the top section. This is the first piece of furniture I've seen with something like that, and to be honest… at first I thought it was hideous. I was honestly stressing out about how I was going to fix the huge hole that was left when I removed it, but after it was all pretty and painted, I put the slab back in and I LOVE it now! It ended up working really well with the Revere Pewter accents that I put on this piece.
I'm still searching for those pesky before photos of Bernadette. Hopefully they will show themselves soon.
Materials Used:
Vintage Storehouse Chalky Paint Powder mixed with Behr Ultra Premium Paint in "Navy Blue" by Benin Moore (Exterior) & "Revere Pewter" by Benin Moore (Interior)
Fiddes Supreme Wax in "Clear"
Disposable Microfiber Waxing Cloths
I Was Featured!: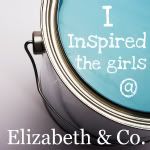 [Signature Snippet]
[Link Party Snippet]
4 12 13s 13 7 13 13 8 8 air 12 8 13 error error 6 8 adidas Yeezy 750 Boost 13s 5s 13 6>> 5s 5s 13s 13 5 louis vuitton outlet