So I've been having so much fun with Blue Minerals Chalk Paint Powder (now Vintage Storehouse & Co. Chalky Paint Powder). The time I spend painting furniture has been drastically reduced. For example, this beautiful chest of drawers was completed start to finish in less than a day. (I did do some prep-work adding the legs and molding the day before, but it was painted and sealed all in one day). Everything just goes by so much faster when you're not sanding or priming. (On my old DIY version of Chalk Paint, I would have to sand the entire piece after I painted it to get a smooth finish).
Anyways… this dresser is part of a complete Queen sized White Glazed Bedroom Set that I just listed in the Shop. I'm guessing this set was made sometime in the 70's because of the size, but it was well made and I fell in love with the cross carvings. (They remind me of lace for some reason!) But with most furniture made in that time frame, it was really short (Do you ever wonder if people back then were like 5″ shorter than us?) and boxy, it was just screaming for some molding and legs.
White Glazed Bedroom Set Before
So, off to Home Depot I went. You can purchase furniture legs from Home Depot or Lowe's. They are about $8.00 a foot for legs about half the size of the ones on these dressers. I bought these on eBay for about $4 per foot plus shipping. The shipping can be quite pricey, but because I bought 18 of these bad boys, I got a discount on shipping and it ended up being about $6 a foot. So, I purchased only the molding from Home Depot but whilst there I decided on choosing a tool belt, I have so many tools now after doing this for some time that I thought it would be idea to get myself a tool belt so I can keep all my tools handy whilst creating my new masterpiece.
You can see how much more character the set has now with the legs. Also it made these pieces really tall and chunky which I love. These would look perfect in a master bedroom next to a bed with the same white colour. I can just imagine how amazing it would feel sleeping on a full size mattress knowing your room looked so stunning.
White Glazed Bedroom Set After
Products Used:
Benin Moore Regal Select in "Linen White"

Behr Glaze mixed with Brown and Black Acrylic Paint
Rustoleum Satin Black Spray Paint
Molding Purchased from Home Depot.
I will be uploading a tutorial next week on how to add legs to your furniture, but for now you'll just have to settle for the before and after photos! I also have a glazing tutorial coming out tomorrow!
[Signature Snippet]
Featured By: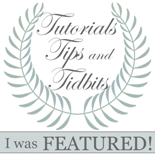 [Link Party Snippet]